Le master international "Physics of Complex Systems" (i-PCS) est un programme franco-italien sur deux ans (M1 & M2) offert par les Universités Paris Diderot, Pierre et Marie Curie et Paris-Sud/Paris-Saclay, ainsi que le Politecnico de Turin, la SISSA (Trieste) et l'ICTP (Trieste). Il est possible d'intégrer le master Systèmes Complexes directement au niveau M2.
Le master Systèmes Complexes est une formation de physique fondamentale orientée recherche, ayant pour but l'étude des systèmes complexes par la physique statistique à l'équilibre et hors d'équilibre, la théorie des champs, les processus stochastiques, les systèmes dynamiques, la physique non-linéaire, les techniques d'inférence et la simulation numérique. Les objets d'étude sont en particulier les réseaux complexes, la matière active, l'interface physique/science sociales, la matière « molle », les systèmes biologiques, la complexité en physique quantique,  ou encore les questions issues des problématiques de « big data » ou de « machine learning ».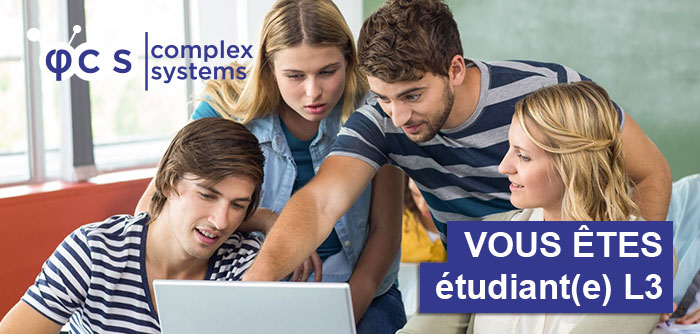 Vous pouvez effectuer le M1 & M2 international « Physics of Complex Systems » (i-PCS) en Italie pour le M1 et à Paris pour le M2. Tous les cours sont en anglais. Vous obtenez un double diplôme français/italien. Quelques modules d'intégration supplémentaires permettent d'acquérir le diplôme d'ingénieur du Politecnico di Torino (Italie).
NB. Il est possible d'intégrer i-PCS directement au second semestre du M1 après un premier semestre de M1 à Paris.